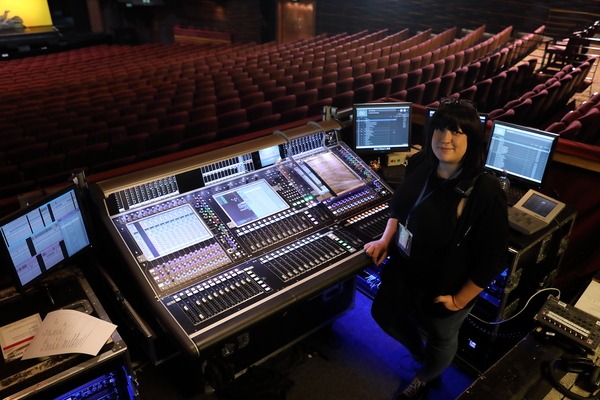 South African Audio Engineer, Emily Adams, was working on Pieter Toerien's previous production, Joseph and the Amazing Technicolour Dreamcoat, when she was asked to assist with Evita. The original West End and Broadway production of Tim Rice and Andrew Lloyd Webber's iconic musical, which premiered at Montecasino Teatro in Johannesburg, and recently moved to the Cape Town's Artscape Theatre, will eventually tour Asia in 2018.
It has been an incredible experience for Adams, who operates the show on a DiGiCo SD7T. "It's my first production as Head of Department on a show of this scale. I started as a RF technician and I have done many shows at the Teatro Theatre, but I've always been the deputy head of sound and only mixed the occasional show, not actually running the show. This has been really challenging and I've loved every second of it so far.
"The designers for many musicals want a natural sound so that the audience doesn't walk away feeling like they have been 'blasted' for 2 hours," explained Adams. "For Evita, especially in the second Act, I tried to make the smaller and more beautiful moments as delicate and natural as possible. It just brings out more of the emotion. For the first 2 weeks, I was so focused and invested I would often get caught up in the emotion. I definitely take that on as an operator; I often get very drawn into the moment while mixing.
The programming for Evita came from Broadway and was adjusted according to the SA version of the production. The audio cues are extensive, Adams recalled: "I did things like assigning the correct cast members to each control group per cue, I shifted a few groups around and renamed them. But what was interesting about the way the show had been programmed, which isn't how I've ever done it before, is that QLab triggers the desk cues. I'm used to triggering QLab from the console, so it's a reverse way of how I normally work but I'm actually liking it because if I go to a cue too early I can easily correct it without worrying about triggering an SFX on QLab. I also have more control on the console to jump between cues to edit."
With an input channel count of 253, the SD7T on Evita is basically maxed out. There are 38 radio mics on this production which already takes up a fair amount of space on the console. "Five of the principles are double mic'd, so their channels have an alternate channel as well. We've used pretty much every channel," scoffed Adams. "It's a bit of a beast of a setup, definitely one of the bigger setups we've had in this theatre in the last few years in terms of the audio."
A sidecar, EX-007, was used for tech production period with the SD7. "It was actually great because normally when you do a show and you're in the tech period learning the mix, you will have the designer or production engineer in your space 24/7 adjusting various things," Adams explained. "So, you'll be mixing and they will be leaning over editing. With the sidecar, it means that while they're editing, I could focus on the mixing. But in addition, if they wanted to move into the house with it and do some adjustments, they had the freedom of getting out from under the balcony to get a sense of the whole picture."
Monitoring onstage for the cast includes 5 sets of foldback sends, there is a UPJ on either side at the front end of the extension of the stage and then inside each wing is a D&B E8 that has been fitted into the set facing onstage – there are a total of eight monitors. The monitors are post fade and controlled from FOH, all running through a Galileo. Adams has control from the DiGiCo if needed. "If I need to adjust something I can do it from this end, but we generally don't touch it once the show is set up. It all gets balanced and set beforehand during tech and shouldn't need to be adjusted."
The Meyer sound system which is made up of 16 M'elodies aside, multiple delays and side fills have made mixing a pleasure for Adams. "Many times, when working on a production, the house is smaller one day and bigger the next and it can sometimes be difficult to adjust and know that all areas of the house are happy. But this system is so well structured across the whole auditorium that I never have to worry about that."
Adams concluded: "We had the original choreographer and costume designer as well as Dan Kutner who was directing the show on behalf of Hal Prince who was very much in the loop." She talks about how the creative team had input in all areas across the board. "You wouldn't normally have a choreographer giving you sound notes, but because he knew what Evita sounded like originally, he was trying to recreate the full picture of the show. It was really amazing to have this input. The knowledge and passion from everyone in the team is what makes this production so amazing."