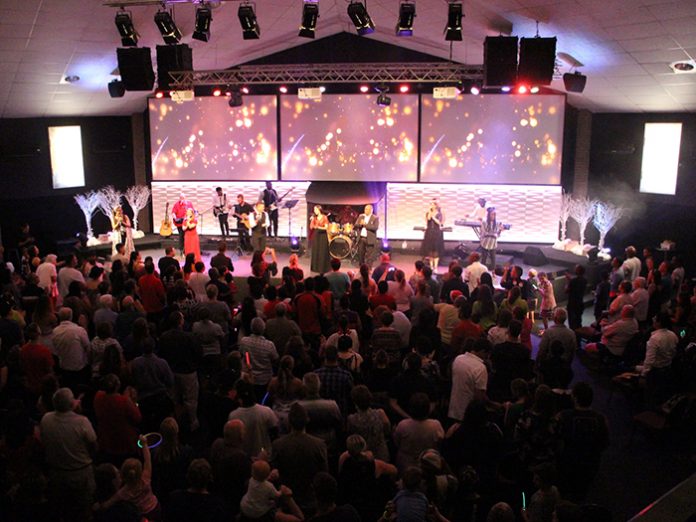 To cater for a growing congregation, Thrive Church, east of Johannesburg, has invested in an L-Acoustics audio system installed by DWR Distribution.
Thrive Church has two houses of worship, a church in Boksburg and the other in Edenvale, where the focus is to encourage families to live closer to Jesus. The upgrade, which was installed at the Boksburg community, consisted of a three per side L-Acoustics ARCS WiFo System (two Focus and one Wide) with two SB18m subwoofers flown per side, two X12   outfills (one per side) and six 5XT front-fills.
"The previous audio system was about fifteen years old and wasn't adequate for the size of the venue where we had recently extended the seating capacity," commented Pastor Byron Chicken. "It wasn't giving us a sufficiently full and clear sound and was battling to fill the venue properly. The new L-Acoustics system has made a huge difference; it gives our venue a beautifully full and clear sound."
The project was managed by Victor Vermaak who represented DWR. "Very little on the market, at this price range, can compete with the sonic size of the ARCS WiFo system," said Vermaak. "The WiFo system matched the room perfectly and there was no need for additional delay speakers. As the L-Acoustics saying goes, the best sound comes from one source, so where possible, if you can eliminate the need for delay, the result will be a smoother and better sounding system. This has been the case at Thrive Church."
Besides Sunday services, Thrive Church has a heart for people and education and run a social justice programme. "We have a registered NPO called Shine and it provides mentoring and tutoring for grade 10s, 11s and 12s in under-resourced communities," said Pastor Chicken.
This year also saw the launch of a literacy programme aimed at grade 2s, where volunteers dedicate a couple of hours a week to coach children who struggle with basic core literacy. "We find there is a massive problem when it comes to the basic building blocks at grade 2 level," explained Pastor Chicken. "Children are often not able to read at the foundation level and that carries through to grade 4 and 5, which is just devastating. We work in an under-resourced school in Reiger Park, providing an education service in the form of mentoring, teaching and literacy."
L-Acoustics' objective has always been to focus on the audience and to make sure that the people on the 'listening-end' have a positive experience. While Thrive Church have already used their new system for a special Christmas Carol evening, the transformation can be heard with every sermon and every song of praise presented by the worship team.