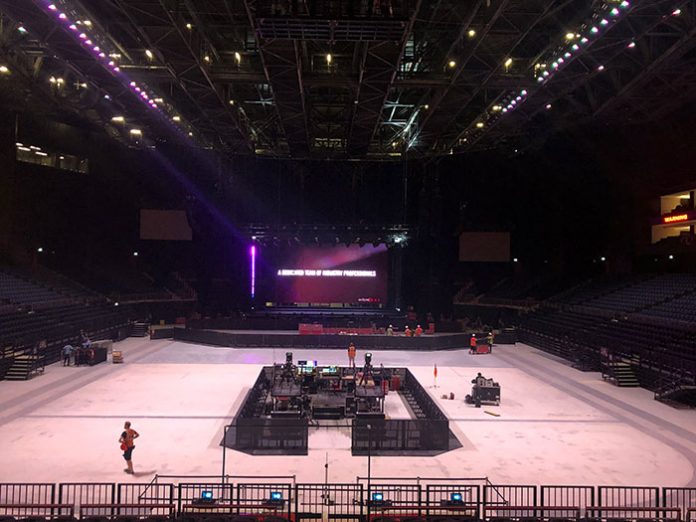 The new Coca-Cola Arena in Dubai was packed out last month as thousands of Westlife fans relived their youth at the band's Twenty Tour. Taking a walk down memory lane, the boy band performed hits from the past 20 years, with Unusual Rigging and Engineering LLC providing the house rigging points for the production.
Unusual Rigging is the sole house rigging service supplier for the installation of all rigging points at the Coca-Cola Arena. One of the main talking points of the venue is its rigging system and unique roof structure. All rigging is done from a raised catwalk – it has shallow braids and is easy to access.
With a distance of 24m from the catwalk to the floor and 26m to the I-beam, this covers most height requirements of touring shows. The arena also boasts 90 tonnes over the stage, 60 tonnes for the middle and 40 at the far end – all of which can be hung individually, giving the roof a total weight load of 190 tonnes.
Unusual Rigging's Alex Taylor, who worked closely with the production manager on the Westlife gig, explained: "The brief from the client was to install a total of 68 rigging points with the rigging plot broken down into 12 points for PA, 12 points for Video, 34 points for LX and 10 points for drape truss. There was a large video screen up stage centre with two smaller screens down stage left and right, as well as two LX towers stage left and stage right of the main screen. We also needed to install six runs of LX truss to light up the stage and the audience."
Taylor and the Unusual Rigging team installed a total of 68 motors. "Because of the versatility of the CCA roof rigging beams, you can put a rigging point more or less anywhere for each different show," he continued. "We ended up installing 25 dead hangs and 43 bridles, with the majority of the bridles being installed under the catwalks."
While the Coca-Cola Arena is a brand new venue with a state-of-the-art rigging system, the production still managed to throw some challenges at the rigging team. "We had to make sure that all of the video points were in line with each other," explained Taylor. "We did this by putting some of the bridles on a slight angle to one another in the roof, but at the same time keeping the motor in its correct position. Ensuring that the PA points were in the correct position to avoid delays when it came to hanging the PA was also vital."
Unusual Rigging has already been involved with The 1975 and Maroon 5 gigs, which have marked the opening of the new arena. Taylor concluded: "The design for the rigging elements in the CCA has been thought about in the design process. It has six main catwalks running down the full length of the building with interconnecting smaller catwalks between them. This makes accessing the rigging beams simple and therefore installing the equipment needed for each show is easy. All the equipment is brand new and a pleasure to use and we look forward to the line up of shows we'll be working on at the arena."