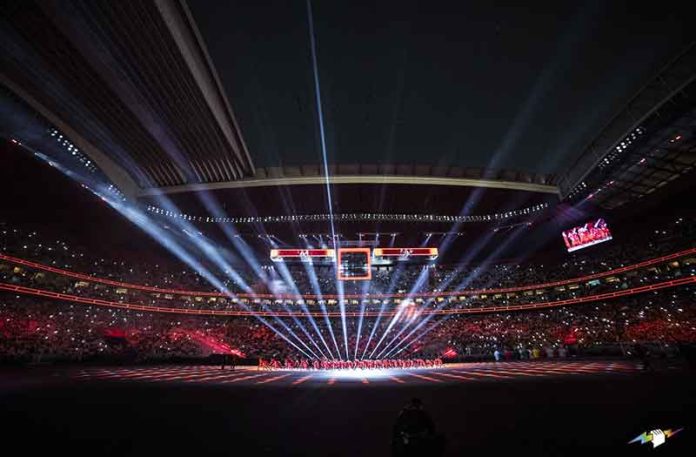 The FIFA World Cup 2022 kicked off with a bang, thanks to an ambitious Opening Ceremony, featuring a performance by Jungkook of K-pop phenomenon BTS and narration from Oscar-winning actor Morgan Freeman. Produced by Balich Wonder Studio, the event was played out in front of more than 60,000 fans at Qatar's Al Bayt Stadium, as well as millions more from all over the world tuning into the live broadcast.
The Opening Ceremony took place in a projected world devised by Creative Director Anghela Alo and the content artists at Luke Halls Studio, which presented a unique challenge for UK-based Lighting Designer, Durham Marenghi. "We were operating at a light intensity of around 400 Lux and sports lighting for the games was around 2000 lux, so a very careful approach was required to create the magic to entertain billions of fans around the globe," he explained.
To create the desired effect, Marenghi specified a rig featuring an array of Claypaky fixtures, including Sharpy X Frame, Tambora Linear 100, Xtylos, and Sharpy. "The key factor was weight on the roof and very high truss heights of more than 50m to keep the equipment above the technical and camera systems required by the soccer authorities," he noted.
"Every source deployed had to have a very high light output and very tight beam angle. We usually have lights all around the field of play, but this was not possible with the first game of the competition scheduled only one hour after the opening ceremony."
Marenghi mounted 60 Sharpy X Frames, 40 Xtylos and 80 Sharpys on 20 roof trusses; 16 more Sharpy X Frames on goal posts across two west projection positions; and 18 Tambora Linear 100s plus Neutral Density filters on the side stages and nine more on the centre stage, as well as an additional 52 Sharpys.
"Sharpy X Frame was by far our favourite fixture on the rig – a true hybrid," he declared. "The Xtylos laser-sourced fixture is a grown-up Sharpy, if you will, but with the benefit of additive colours so RGB and CMY are far brighter. It is a very safe fixture, and its IP66 version, the Xtylos Aqua, is perfect for long-throw exterior applications."
The LD also described the Tambora Linear as "a great and flexible batten with three distinct layers – a conventional solid colour wash, which can be overlaid as a mappable pixelated array, and finally the white strobe layer that runs through the centre. It is bright so we used the ND filter provided on units facing our broadcast cameras."
Creative Technology Middle East (CTME) delivered the spectacular projection mapping covering the pitch for the ceremony, along with flown tracking LED screens and rolling stage LED screens. "The show was a technically complex production with lots of signals and different displays under the high-pressure environment that comes with global televised shows," the company stated. "Our technicians rose to the occasion as always.  We were operating on very tight schedules delivering the highly technical installation in a time-sensitive manner."
CTME's technical solutions consisted of video mapping projection, which covered the massive pitch area of3,250 sq m with a canvas size of 3,840m by 5,340b. The company provided 18 Panasonic PT-RZ31k laser projectors with all signals distributed though fibre from a 128×128 video router matrix. In total, disguise servers were playing back 30 million pixels to all screens and projection systems around the venue.
For content playback, CTME supplied a fully redundant disguise system of two VX2 and four VX4 servers to output content for the FOP projection, LED screens, stadium ribbons and broadcast VT.
One of the most striking features of the opening ceremony was the flown LED screens situated over the pitch, created using ROE Visual Vanish 8T and GLUX 10 mounted in custom-made scenic frames. The signal that fed into the screens was a broadcast wireless system that used 7G bandwidth.
Another key feature of the night was the rolling stage on the pitch. This was custom built using ROE Visual Vanish 8T LED screens fed through a Riedel MediorNet system.
"Our dedicated teams were planning for this event for over two months with our client, Balich Wonder Studio," the company added. "From pre-production to the event going live, the entire team at CT worked incredibly hard to deliver such a fantastic show. Schedules had to be met in a timely manner to ensure a seamless delivery. It's been a huge honour for CTME to deliver on such a world-renowned event.
Photos: Balich Wonder Studio, CTME