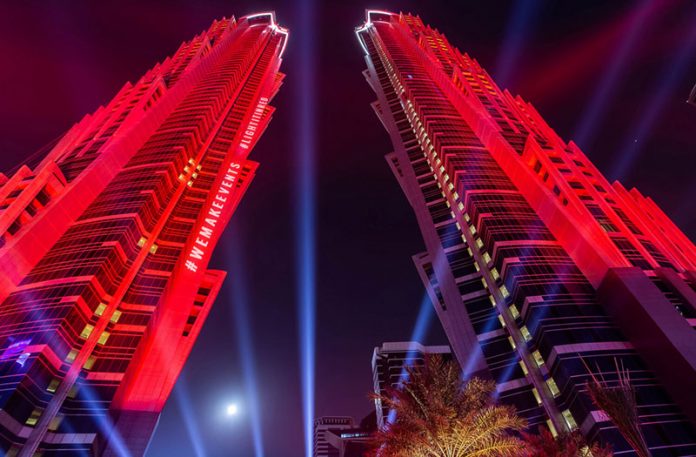 With the global events industry uniting under the #WeMakeEvents banner on 30 September, the Dubai-based eclipse Group, a member of the PSAV family of companies, partnered with the JW Marriott Marquis, to join the cause.
Highlighting how the global live events industry urgently needs to get back to work, eclipse illuminated the world's second tallest hotel in the campaign's signature emergency red.
"We will be illuminating our Main Warehouse in DIP 1 as we collectively STAND AS ONE in demonstrating how integral our industry is and how our industry has over the years contributed to the economies of the world," commented Martin Lubach, General Manager, eclipse Staging Services.
Sacha Morazain, General Manager, eclipse Venue Services added: "In addition to the illumination of our Main Warehouse, we have united with one of our key venue partners, JW Marriott Marquis, where we will be illuminating the world's second tallest hotel to support this cause."
More than 30 million people in 25 countries would usually work in the events industry, but with social distancing measures and other restrictions in place, there is no possibility of a financially viable return for the foreseeable future.
The majority of the industry has had no income since the beginning of the crisis in March, and with a global second wave of COVID-19 imminent, a date to return to work has become impossible to predict, leaving many companies and individuals devastated, both financially and personally.
The 30 September Global Day of Action marks the start of a new phase of the campaign, which will continue to alert governments to the disastrous situation the sector faces.
Simon Ransom, Group Director, Middle East, PSAV, concluded: "With the varying levels of government support provided for our industry around the world, it is important for the eclipse team to add our voice to this statement in order to bring attention to the millions of event industry professionals who are devastatingly affected by this global pandemic."