With the COVID-19 pandemic almost behind us (hopefully), everyone in the industry is eager to get back into ballrooms, tents, exhibition halls and stadiums. However, there are still virtual events happening and the number of hybrid events is increasing. So, what does the post-pandemic event world look like?
3 Monkeys has supported a series of events throughout their evolution from in-person to virtual and then onwards to hybrid, serving a diverse client base in both the Middle East and the US.
The transition from in-person to virtual was painful for many event professionals and dominated by attempts to apply everything that defines an in-person event into a digital format. Those giving up on this push-to-fit approach and focusing on new possibilities offered by a new production environment developed successful events; the others declared virtual events to be useless and only a temporary phenomenon. 
This transition phase is far from over. While in the past planning started by looking into a date and location, now one of the first decisions that needs to be made is whether the event will be in-person, virtual or hybrid. 
The virtual/hybrid events 3 Monkeys has run so far in 2022 have been mostly for clients who embraced virtual events during lockdown. They acquired the knowledge, strategies, and logistics to produce virtual and hybrid events quickly, efficiently, and successfully; they embraced virtual as a new element of the internal and external communication mix, easily extending this methodology into the hybrid world. 
Clients who are new to virtual events are driven primarily by cost efficiency compared to physical setups. For virtual and hybrid events alike, the simpler access to companywide or widely distributed audiences comes up a lot. 
Stakeholders who did not give virtual events a shot seem to have little to no appetite to explore hybrid options, but there are a few data points that may yet prove invaluable during the decision-making process.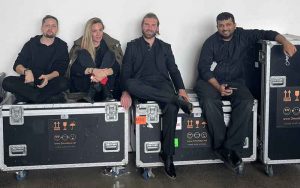 First is feasibility; can all speakers and guests attend in person or are there restrictions or hesitations about travelling? Next is capacity; is there a larger potential audience than could fit in a venue and could this audience be activated virtually? Then there's reach; is the event – or parts of it – suitable for a public or extended audience? Are there segments in the event's target groups that could be reached by offering customised content out of the live event? Policies are also a key consideration; Are inclusion or environment important parts of the event's policies, and might a hybrid or virtual event support these policies? And finally, income; is there a chance to sell virtual tickets or could a hybrid element increase sponsorship? 
A client who embraced virtual events early and started producing hybrid is the agency e2k – events x entertainment. In May 2022, 3 Monkeys supported one of the company's events out of Spring Studios in New York. The event operated with two stages, an exhibition area and a hospitality/mingling zone utilising three floors of the building. At first sight, it seemed like a typical setup for a premium conference, but a closer look revealed significant differences.
Both stages were conceptualised with live and remote audiences in mind. The stage designs were equally impressive for the in-person audience as they were suitable for camera work. The design concept was extended into the lighting department, creating an event atmosphere in the room but also keeping cameras and broadcast in mind to a much higher extent than for a typical conference production. The lighting designer did a great job in finding the right balance between scenic, show, effect, and studio light.
The second big difference was the back of house structure shared between CT, Maritime, Spring Studios internal AV department and 3 Monkeys. At its core, it was an extensive audio and video signal distribution network which allowed operators working for in-person and broadcast to access all signals and produce the right mix for the different audiences. 
Besides the usual event-specific signals like camera program, camera iso, presentations, video playbacks, media server feeds and microphones, the hybrid character of the event added eight remote speaker channels with mix minus requirements and a total of a dozen different destinations across broadcast and the in-person event. 
The audiences for this event were not only defined as in-person and remote. The remote audience was split into an accredited audience seeing the full programme on the client's virtual event platform. There was also a broadcast of selected sessions to social media, putting the event into the public space, as well as a clean broadcast feed, which was delivered to the client's headquarters for further ad-hoc and post-event usage and documentation purposes. Each of these broadcast flavours had its own design, catering for the different target groups and distribution channels. 
For the main stage, a cluster of redundant Ventuz media servers operated by 3 Monkeys produced the three broadcast streams and the graphics for the LED screen, which was integrated into the stage. Unifying the graphics and broadcast platform proved to be highly efficient not just during content design and production but also during operation. 
Last-minute changes were adopted and reflected throughout all outputs working off a common database and asset library. The same database and asset library was used for digital signage screens run by Ventuz. The broadcast for the second stage came out of a Newtek Tricaster, operated by Maritime, and supported with broadcast graphics provided by 3 Monkeys.  
After three days of live events, the 3 Monkeys team felt that it had experienced a perfect fusion of what was achieved during the virtual-only era, updated to offer a successful and engaging experience for all audiences. 
There are always ways to improve workflows, always possibilities for technical improvement and, after all, each production is unique in its combination of client, venue, programme, audience, and suppliers, but the path for hybrid events in general is set.
Photos: 3 Monkeys