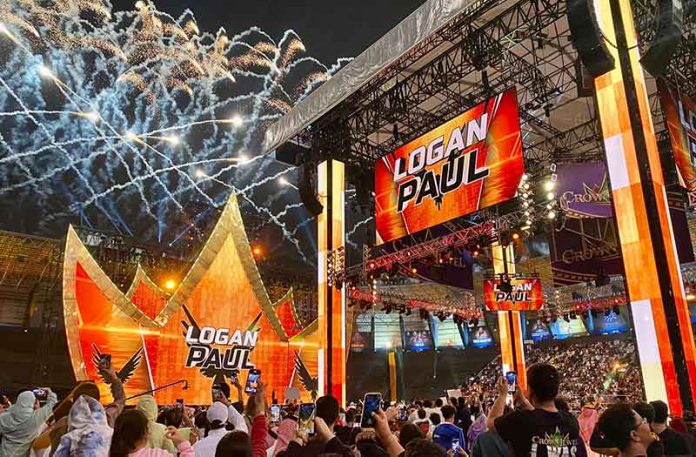 WWE returned to Saudi Arabia with its Crown Jewel event taking over Riyadh's 25,000-capacity Mrsool Park stadium once again.  
Creative Technology was engaged by Screenworks to supply ringside and entrance screens for the ground-breaking show. The company used the opportunity to deploy a massive 800 sq m of its brand-new INFiLED 4.6mm LED, as well as 300 sq m of ROE Visual Vanish V8T across the ring side and entrance screens, all controlled via a centralised NovaStar H15 video splicing and processing suite.
Screenworks' creative brief included a huge crown-shaped main screen measuring 22.5m high by 39m long. The impressive over-ring design consisted of four large LED screens, which were configured in a 360° formation, ensuring that fans in every seat within the stadium never missed a second of the action.
To enhance the fan experience, the four truss tower legs were also wrapped in LED, which displayed content that interacted with the over-ring screens, showing rounds, point scores, updates, and sponsorship logos.
"This year's event was even bigger than the last," commented CT's Head of Video, Tom Stocks. "The fans were amazed at the magnitude of the show. Our dedicated engineers worked extremely hard to ensure everything ran seamlessly on the night. With months of planning and preparation, it was out of this world to see the enormous piece of engineering come together."
Project Manager, Dan Hughes added: "We are very proud to have delivered the WWE extravaganza for a fifth year. Our talented engineers came together to build large LED for the technical production, which was a massive success. The team were ready for any changing scope and any last-minute technical additions. Well done to the entire team and a huge thank you to Screenworks for trusting us each year to make this a brilliant event."
Also contributing to the project was Showforce, which provided a team including a crew manager, two international crew and 10 crew members, who worked on-site in Riyadh from 26 October to 8 November. "The mega LED screen build included millions of pixels, miles of cable and resulted in a great show," the company stated in a post-event press release.
Power and cooling requirements for the event were handled by Aggreko. Events Sales Account Manager, Imran Khan described the delivery: "Aggreko supplied power services for full stage production, including lighting, audio and video, as well as cooling for all the technical areas – 9MW and 75T cooling capacity, to be precise."
Khan put the successful delivery down to "local knowledge and technical expertise", adding that the company's extensive range of equipment available in the region was vital to the quick turnaround. "Our team of experts provided full design, transport, and the installation for the 9MW of power, along with a dedicated crew to install and maintain the equipment while the event was on."
The Account Manager was pleased to report a "seamless, continuous power delivery", which enabled the show to go off without a hitch. "We delivered precisely on the customer's requirements, enabling the show that was watched by millions on-site and live on television to go on seamlessly."
Photos: Creative Technology